Horse Racing Handicapping Software and Free Horse Racing Data
Horse Racing Handicapping Software - FREE Horse Racing Handicapping Software w/FREE Horse Racing Data too!
QuickHorse Horse Racing Handicapping Software - Now Celebrating over 20 Years!
FREE North American Horse Racing Handicapping Software Data is not something you find everyday, but our $95/Year QuickHorse Horse Racing Handicapping Software provides it, and now you can try the entire QuickHorse Horse Racing Handicapping Software FREE for 30 Days.
We'd like you to trial our Horse Racing Handicapping Software - QUICKHORSE - absolutely FREE (including our free data which is always free with a paid subscription to QuickHorse).
Click on the Image below to watch our Introductory QuickHorse Video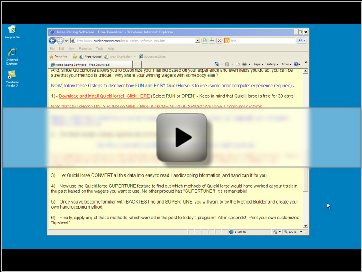 Horse Racing Handicapping Software - Click Here to Access The Free Subscription to QuickHorse Horse Racing Handicapping Software
QuickHorse Horse Racing Handicapping Software allows the user to handicap most of the larger American Thoroughbred Race Tracks and includes the following all FREE for 30 Day Trial Subscription - After the free trial the subscription cost is $95/year.
QuickHorse includes "QHApp" for Android Smart Phones for handicapping using your Smart Phone away from home.
Watch Other QuickHorse Instructional Videos Here
1. Automatically locates, imports and converts FREE Internet Horse Racing Handicapping Software ENTRIES and Horse Racing Handicapping Software CHARTS Data into a database which is exportable to other programs such as Microsoft Excel. You can also use data you have purchased from Brisnet.
Click Here to Read About Our Free Horse Racing Data
2. Allows you to use the Android Smartphone App - QHApp - so that you can handicap using your smart phone while at the track rather than taking your laptop with you.
Click here to read about the Android Smartphone App - QHApp
3. Builds a historical database and Calculates Brohamer Pace Figures and its own "Ratings Figures". These Rating Figures tell the user instantly what percentile each horse competed in relative to other horses at the same track and at shipper tracks.
4. Also Imports purchased Horse Racing Handicapping Software Data such as Brisnet (including DRF and other file types) and allows you to use their calculations instead. It exports to this format as well, so that our free data users can export our data to their own horse racing handicapping software which uses DRF and XRD files.
5. Allows you to use its horse racing handicapping software methods, or create your own Custom Methods, then backtests these methods using the historical data - includes wagers ROI, BANKROLL and Win %.
6. Optimizes Horse Racing Handicapping Software Methods using "Supertune".
7. Exports its database information to Spreadsheet Output for use with other programs.
8. FAST Email Support of Horse Racing Handicapping Software
9. Low Yearly Subscription Price - Click here for Subscription Cost
...and Much More!...
Download the Free Trial of our horse racing handicapping software today - Click Here
Why do we sell a subscription?
There are two ways horse racing handicapping software is sold today. You can buy it at a high price, and then buy it again at another high price next year when new editions come out...OR you can subscribe to the software for a low yearly price.
The reason other vendors charge a high price is because they think most customers are "one and done" so they want to make sure they are paid the maximum for that first sale.
QuickReckoning, Inc. provides horse racing handicapping software on a yearly subscription and at a low price and earn your business continuously. We also make frequent updates based on user feedback as part of that subscription. Our email support of the product is second to none in the horse racing handicapping software publishing industry. And, you get Free Horse Racing Handicapping Data to use, or you can purchase handicapping data from Brisnet and other online sources.
To Contact Us Click Here QuickReckoning.com
Partners Sites:
The Racing Report - Covering Thoroughbred horseracing at Aqueduct, Belmont, Saratoga and Finger Lakes. At the Racing Report you can read daily horse watches, trip notes, book reviews and more. Signup for a free membership and receive e-mails regarding Thoroughbred handicapping.
Horse Racing Links| RaceXpert | Horse Racing Software - Description: Award Winning UK horse racing ratings software recommended by both novices and professionals. Horse racing draw analysis, ratings, positives & negatives of a race, system research and lots more horseracing statistics, reports, and printouts.
Horse Racing and Harness Race Betting at RaceBook.com - Offers horse and harness race betting on popular tracks from around the world. Bet online from the comfort of your home. Full track odds on most bet types; many exotic bets available.